Who doesn't love to see all of the funny things that happen on RQ? I have screenies and other stuff, so have a great time looking and laughing xD
I try to get new screenies in at least once a week, so check back often. You might even be in some of the screenies.
Screenies! Yay!
Screenies are the awesomeness. You love my site because of them. Admit it.
Remember, to look at the PG13 screenies page, you have to have a site account. Talk to me if you want one, or if you lost your password.
Haven't been noticing more screenies coming into this page? Check the PG13 page!


Impersonators in training.


Impersonators in action. Laina was totally fooled until the REAL Jaboc told her.


Whoops.
Before:


After:


Good bear gone bad.


Sindar with his great timing.


Yum...yum?


Yes, it are very important.


Okay, I was going to say something else but that makes a good screenie...


Roar! This dragon is worse than the cat, seriously.
Re-creation of the moment:
Pet Dragon> Grrrrrr!
Pet Dragon> Grrrrrr!
Pet Dragon> Grrrrrr!
Pet Dragon> Grrrrrr!
Pet Dragon> Grrrrrr!
Pet Dragon> Grrrrrr!
Pet Dragon> Grrrrrr!
Pet Dragon> Grrrrrr!
Pet Dragon> Grrrrrr!
Pet Dragon> Grrrrrr!
Pet Dragon> Grrrrrr!
Pet Dragon> Grrrrrr!
Pet Dragon> Grrrrrr!
Pet Dragon> Grrrrrr!
Snowpelt> STFU


Sat[sit] for a SAT[test] on a Sat.[Saturday].



Making my logic unfaulty.


Yo drun cuz bob shot yo wit a bakkuz bow yo


I promise it won't happen again.

Announcement from Announce Horn(#3729)....
Jaboc!


You can get a whole lot of stuff on Ebay now. Even digital blankets!


Jaboc's adventures out in the wild west.


*gets out crown*


O...Kay...


Sleepin over at Jaboc's tonight. We're gonna be party animals. Pun intended.


*reads message*


:(


Sometimes...you don't want to hear her.


Makes no sense but it's funny.


*runs to toilet*


Just letting the game know.


This is the extreme of RQ imitation.


SMORES!!!!!


Froggishly awesome.


After Windar talked, the stupid cat shut up for a bit, but soon if was back at it again.
Pet Kitten> Prrrr!
Pet Kitten> Prrrr!
Snowpelt> STFU
It's my amazing recreation of the moment.


I think he is the ho....


TWWWIIIIIIIIILIIIIIIIIGHTTTTTTTT!


Pi million, skizziled.


It's a snowman...on fire...in a hot tub. How is that POSSIBLE?


That sure was polite.


Dunno, all the sysops were on, I just needed a screenie.


Bat-Cat-Thingy-Magig.


ALSO FROM LYLIE'S PARTAY. By the way, that's Amnita, the wolf spider. Can't me, Lylie, and Benny have some fun?


STILL FROM LYLIE'S HALLOWEEN PARTAY. This screenie was taken simply to confuse you.


This was the night after the party...


Oh yeah, this was at the party.


Yummy yummy.


I see what you did there.

THE COMPETITION.
WILL THEY MAKE IT? POSSIBLE, YES. PROBABLE, NO.
Pizza does that.



What about my ♥?


Does anyone remember crazycow....?


We said it at the exact same time.


KITTY HUG!


Poor lili.


Like Lylie said, "Say it with me...GAAAAY."


WTF.


Don and his son, Sora.


ALL of Batt's children, no matter how hard their name is to pronounce.


You. Will. Die.


He's a very special freak.


We all love typos.


Little Maze's cat walked over the keyboard when she tried to change her name back to LM.


Ha. Ha.


Who doesn't love typos?


Do you love apple juice? No? Then you must die.



Mwahah. Don't worry the troll respawned right away. No harm done, just a good laugh.


Army of dorks. (Guess which one is me

)


Yeah, you go hide. I'm definitely not a vampire-cat though.


It was a mistake.


What else do you do with steak knifes?


SNOWPELT!
Lots of guests.
Work on that.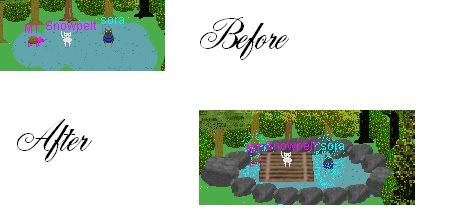 This is why it's useful to use a raft when bob is building something.
No comment.
First ever 'reserved' party. That probably means nothing to anyone play number 6,800 and up.
Cats love helen. I just hope helen loves cats. (Look at Bob's mouth in the portrait, he's like, what the crap is helen doing?)

Is it possible that Snowpelt is MT and MT is Snowpelt? Nah.
Bug much?
Listen to the happy mods and you will be happy.
I rock. You don't. That's how it goes. (Well, bluefang kinda rocks, he hasn't been on RQ forever)
Good Ol' Bob.
Huge bug. Bob had to log off all the robots, including our robot bird, starbar3.


My 16th Birthday Party!
Of course a couple screenies can't describe the whole party, you had to be there to really understand it all. And by the way, the sheep rapes everyone.

YELLOW CONVERSATION IS CURRENTLY GONE. I WILL GET IT BACK UP IN A COUPLE DAYS, SORRY.